Game-changing stuff is coming your way in Pet Simulator X! Discover a fantastic fusing method that will genuinely help you out.
This article explains how fusing works in Pet Simulator X and provides a complete fuse recipe list.
The Importance of Fusing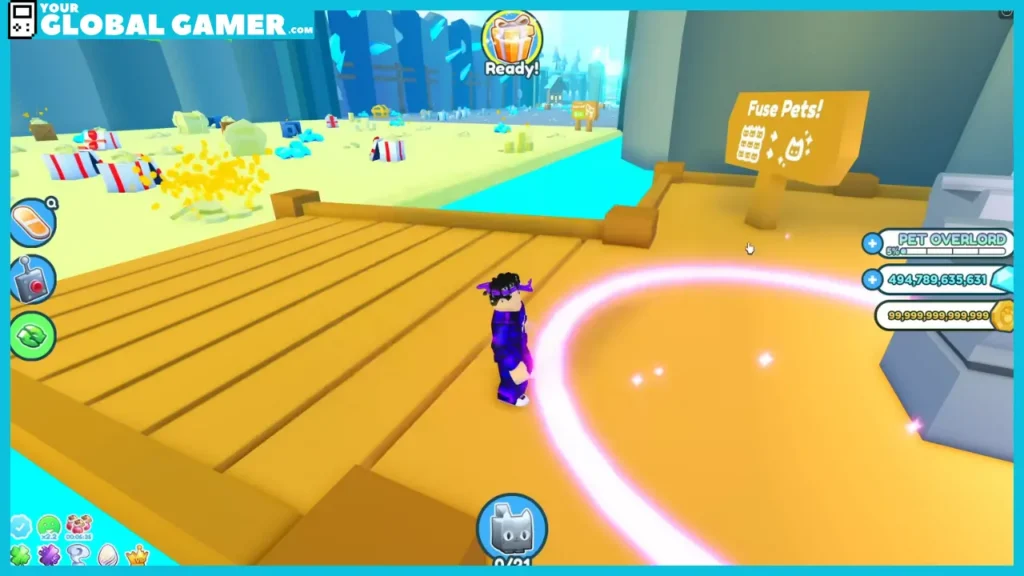 Fusing is actually pretty crucial in this update. If you've played this update, you'll notice that it's somewhat difficult to hatch the legendaries and the mythicals because the odds of hatching good pets are a lot lower now. Therefore, fusing your weaker pets will help you obtain the legendary pets you desire.
Related | How Do You Trade in Pet Simulator X?
The Fusing Method
Step 1: Hatch the Eggs
Focus on hatching the normal eggs, as they offer better value than the gold eggs. However, if you're super rich, you can opt for the gold eggs since they save a lot of time but at the cost of more coins.
Step 2: Fuse the Weaker Pets
Head over to the fuse machine and start fusing your weaker pets. Keep your rares and other pets for later use. The method involves fusing three of your weakest pets at a time. As you continue fusing these pets, they will be replaced with better pets.
Step 3: Keep Fusing and Progressing
Keep fusing your pets and progress through the ranks. As you continue to fuse, you'll start to see better pets spawning, eventually leading to legendaries.
Step 4: Reach the Doodle Sharks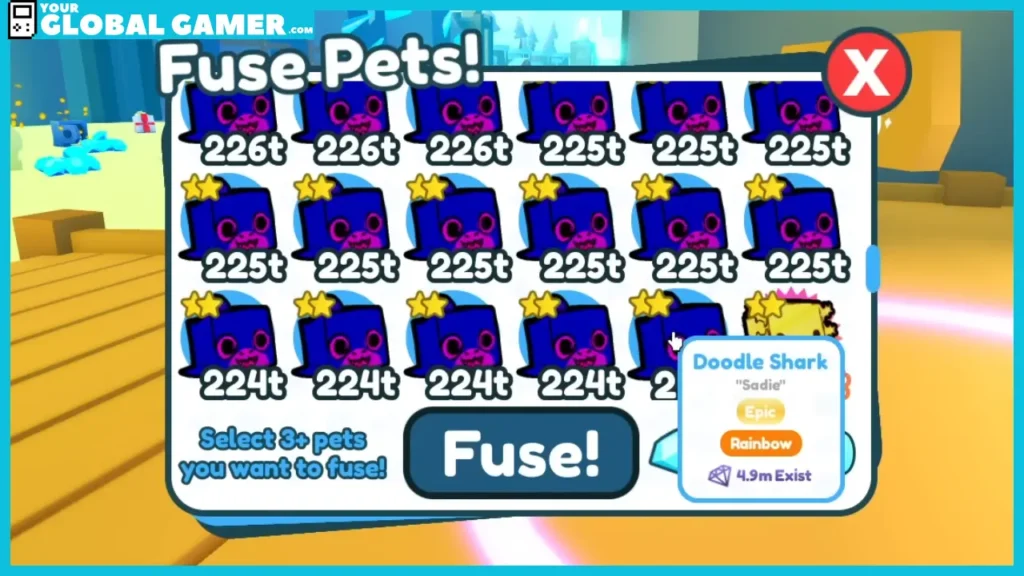 Once you've reached the doodle sharks, you're pretty much guaranteed a lot of legendaries. These pets are powerful and will give you a high chance of getting the legendary pets you desire.
Step 5: Convert Gold Pets into Rainbow Pets
As you progress through the fusing process, you may obtain some gold pets. You can convert these gold pets into rainbow pets for even better results.
The Benefits of This Method
This fusing method is incredibly beneficial, as it allows you to obtain many legendary rainbow pets – the best pets in the game. Although it may be tedious and time-consuming, it's worth it in the end, as it's much faster than hatching for the legendaries.
Pet Simulator X: Fuse Recipes List
Rainbow Star Surfer

3 Rainbow Meebo in a Spaceship
7+ Golden Fluffy
2 Rainbow Fluffy & 1 Rainbow Alien Arachnid
12 Rainbow Jelly (Not 100%)
2 Rainbow Fluffy & 2 Rainbow Jelly

Rainbow North Pole Wolf

3 Rainbow Rudolf
3+ Rainbow Red or Blue Fluffy
3 Golden North Pole Wolf
3 Dark Matter Grim Reaper
3 Rainbow Star Surfer

Rainbow Vampire Bat

8+ Golden Pumpkin Cat
12 Golden Ghost Cat
12 Normal Werewolf

Rainbow Grim Reaper

8 Rainbow Vampire Bat
5 Golden Grim Reaper
3 Rainbow Werewolf

Rainbow Reindeer
Rainbow Blurred Agony

8 Rainbow Blurred Axolotl
12 Rainbow Ghost Cat
3 Golden Blurred Agony
6 Rainbow Vampire Bat

Rainbow Rudolf
Golden Grim Reaper
Rainbow Meebo in a Spaceship
Fusing Tips and Tricks
Be patient and keep fusing your pets.
Have a full inventory of pets for the best results.
Listen to music or watch TV while fusing to make the process more enjoyable.
Don't gamble with your pets – it's not worth the risk.
In conclusion, this fusing method in Pet Simulator X is a fantastic way to obtain the best legendary pets in the game. It may take some time and effort, but the results will be worth it.
Related | How to Verify Your Twitter Account in Roblox Pet Simulator X
Follow these steps, and you'll be on your way to becoming a Pet Simulator X champion!