This page covers the best gaming keyboards to buy in 2023.
The keyboard has always been considered a critical aspect of PC gaming. Often used in tandem with the mouse, the keyboard has served to become a complementary controller for complete, immersive PC-related entertainment. But does a good gaming keyboard necessarily make a better player on PC?
In this article, we will tackle the gaming keyboard and learn about it fundamentally from the inside out to provide insight into its trend. Specifically, we will go into detail about the aspects that make a good gaming keyboard, understand its variants, and cite a few excellent products that relate to the topic.
Factors to Consider When Choosing a Gaming Keyboard
Not all gaming keyboards are the same. While the market is already being saturated by products labeled as such, each offer is most times different from the other, not only from the outset but also from the features that come with them.
Switch Type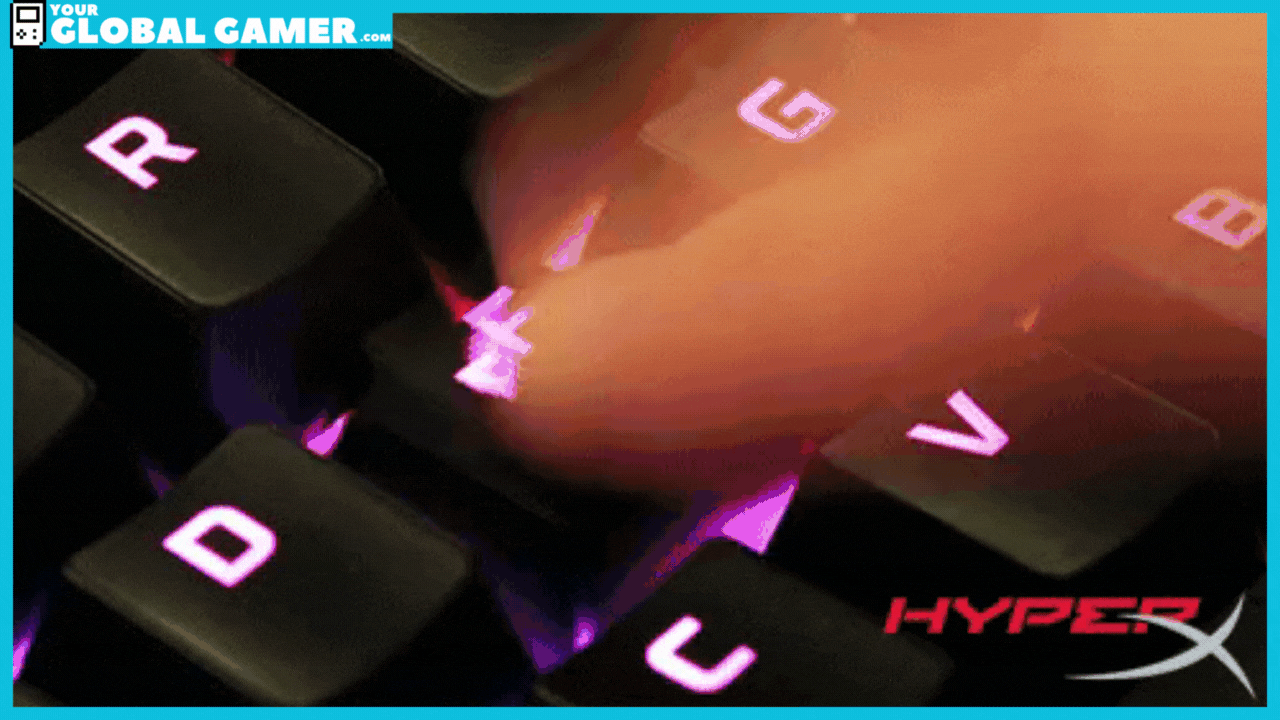 Keyboards have varying mechanisms under the hood that make one significantly unique from the other. This is mostly felt when someone types on a keyboard, which gives each keypress its distinctive quality. This variation in how a keyboard "feels"—whether tactile, linear, or clicky—is due to the different types of switches beneath the keyboards' keys.
Size and Layout
Some keyboards tend to be bigger or smaller than others, intended for different kinds of consumers. Bigger keyboards, for example, tend to have the complete package when it comes to the number of keys and offers comfortable distancing between them. Meanwhile, smaller ones tend to be more compact or are reduced with certain keys to fit everything into a smaller space but at the same time occupy less area on any surface.
Additional Features
Often as a form of a marketing gimmick or an appeal to certain kinds of buyers, most gaming keyboards nowadays come with bells and whistles. Some of these features are completely optional, such as the RGB Lighting and added USB Passthrough, but are nevertheless fun to have.
Top Gaming Keyboards on the Market
Many have tried to enter the gaming keyboard market to make history, dominate it, or simply set a name for their companies. But only a few stood out among the rest with their actual products:
Logitech G Pro X Mechanical Gaming Keyboard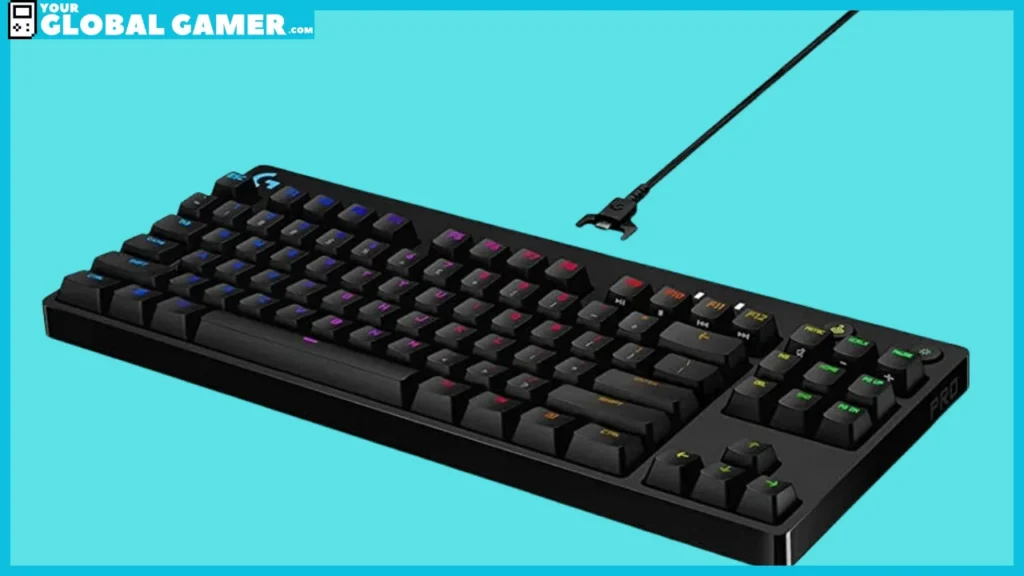 A follow-up to the Logitech G Pro, the Logitech G Pro X mechanical keyboard is a TenKeyLess (TKL) keyboard that improves upon its predecessor, largely through its hot-swappable printed circuit board (PCB).
Design and Features
With the number pad removed as a TenKeyLess keyboard, the Logitech G Pro X manages an 80 percent size relative to a keyboard with a more comprehensive list of keys. It comes in one of two variants—the Black and the "Shroud" editions. The latter is a special edition patterned after the eponymous former professional esports player and now a video game streamer, who is known in real life as Michael Grzesiek. Its features include RGB lighting, which can be predetermined via lighting profile, and 12 programmable F keys.
Performance
Users can choose between three variants of mechanical keys to put into their Logitech G Pro X mechanical keyboard, with varying degrees of quality with every key press. But compared to the Cherry MX, this mechanical keyboard's keys feel comparatively stiff. Importantly, though, the G Pro X is a very responsive mechanical keyboard, thanks largely to its low latency.
Pros and Cons
The Logitech G Pro X mechanical keyboard cannot be represented as a perfect product due to its advantages and disadvantages, which are as follows:
Pros:
At 80 percent the size of a full keyboard, the Logitech G Pro X is a relatively smaller keyboard and thus, requires less space.
The Shroud variant gives consumers a special-looking product.
It comes with some of the bells and whistles that consumers would commonly look for with a mechanical keyboard, including programmable keys.
Offers the same high-quality performance as its predecessor.
Con:
Not ideal for productivity purposes due to the quality of its mechanical keys.
Pricey.
HyperX Alloy Origins Core Mechanical Gaming Keyboard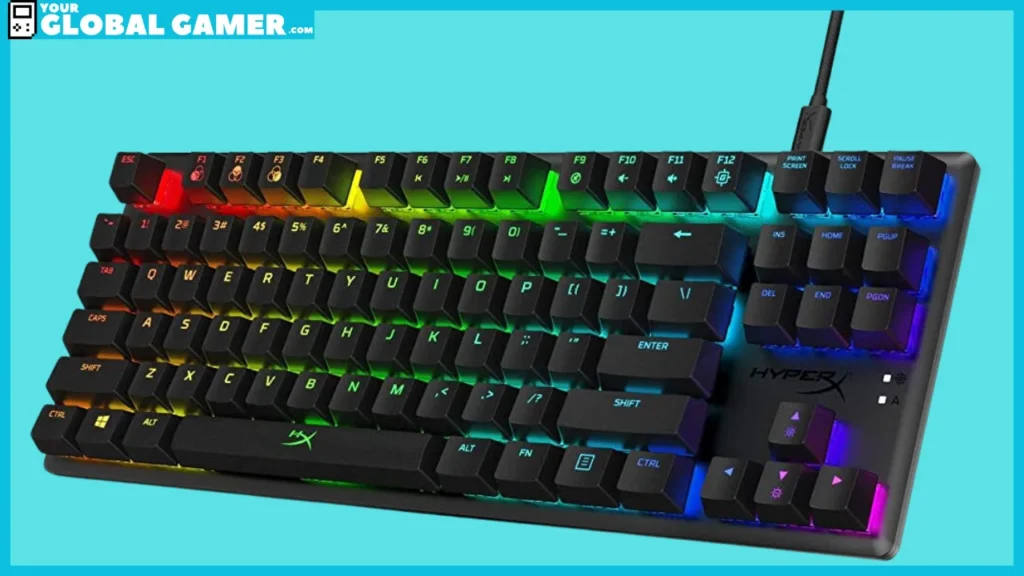 Continuing on HyperX's line-up of Alloy FPS mechanical keyboards, the HyperX Alloy Origins Core mechanical gaming keyboard is yet another reason why the brand remains to be a force to reckon with in the scene.
Design and Features
Taking inspiration from the airplane's robust build, the HyperX Alloy FPS RGB gaming keyboard is as sturdy as it gets for a mechanical keyboard, partly due to the alloy in its rather minimalistic exterior makeup. But its tough build, meant to sustain its intensive use, is not solely this mechanical keyboard's main selling point. Its features include RGB backlighting, programmable keys via its proprietary software, anti-ghosting, and N-Key Rollover.
Performance
For a mechanical keyboard with an "FPS" on its label, it is apparent that the HyperX Alloy Origins Core has the first-person shooter community as its target market. But thanks to its superior Kaihl Silver Switch, this mechanical gaming keyboard delivers on the promise of a responsive keyboard—as it is faster than the Cherry MX Red, which had been the golden standard for the FPS community at large. With something of that capability, it comes as no surprise that the Silver Switch comes with a heightened sensitivity to the touch. But it is not necessarily a better experience in that regard than Cherry MX Blue.
Pros and Cons
Despite its premium, tough exterior, the HyperX Alloy Origins Core is not necessarily a flawless product. But its flaws are more or less outweighed by the strengths that come with its package.
Pros:
The Alloy Origins Core's rugged build makes it suitable for intensive use.

The minimalist design gives it a plain yet elegant appearance that complements an equally minimalist background.
Not as pricey as flagship mechanical gaming keyboards from other brands.
Has a detachable USB cable for charging and connectivity.
It manages to beat the Cherry MX Red with the Kaihl Silver Switch in terms of responsiveness performance.
Cons:
The secondary USB is meant for charging only.
A little too responsive for dedicated typing jobs.
Software is quite inconvenient to use.
Razer Huntsman Elite Gaming Keyboard
As its name implies, the Razer Huntsman Elite gaming keyboard is Razer's latest flagship when it comes to its line-up of gaming mechanical keyboards. This latest product might suggest having the most recent and even the best features possible, drawing from the manufacturer's years of experience in the business, but does it?
Design and Features
Inhabiting a complete set of keys, the Razer Huntsman Elite gaming keyboard is as big as any mechanical keyboard can get. And for a product that bears the flagship symbol by Razer, this keyboard has an overall premium in its design to give the impression. Past the exterior, the Huntsman Elite also touts opto-mechanical keys that separate itself from the pack for taking advantage of both light and mechanical technology for every click. Further, this high-end keyboard contains all the embellishments peculiar enthusiasts look for with their typing tool—RGB backlighting, dedicated multimedia keys, an armrest, a 10-key Rollover, and anti-ghosting.
Performance
Razer was pretty serious when it marketed the optomechanical keyboard to the market, citing the combination as a better alternative to the pure mechanical build under each key. Marketing aside, the performance is not any different, insinuating that the supposed innovation was largely more of a gimmick to justify the product's hefty cost. Nevertheless, the Huntsman Elite's keys are more or less responsive than its Cherry MX counterpart.
Pros and Cons
For a product said to be Razer's best-seller in 2019, a lot is expected about the Huntsman Elite gaming keyboard. But while it is a step forward from the previous generation it follows, it also took a step back.
Pros:
The overall premium feel of the keyboard gives it a classy vibe
Strong build that gives the impression it's going to last for a very long time
Multi-media keys certainly help in improving the entertainment experience, even when not in gaming
The armrest is a welcome addition for potentially preventing arms-related injuries
Cons:
The marketed optomechanical keys are not necessarily better than total mechanical keys
It comes with a very hefty price tag
The ABS caps felt cheap
The attached cable is non-detachable and thick
Mechanical vs. Membrane Keyboards: Which is Better for Gaming?
This is probably a question that has been asked many times before in the context of comparing and contrasting the mechanical and the membrane keyboard—which type is better for gaming?
But to answer that question, let us first lay out the facts in each keyboard type:
Mechanical Keyboards
It might come off as a surprise for many that, despite its recent rise to popularity in the gaming context, mechanical keyboards have long been a product of human ingenuity and innovation. Its roots, of which, date back to the typewriter, which preceded it.
But that is exactly what makes the mechanical keyboard so classy in a sense—because it has been a result of an extensive evolution, leading to everything that it is today. It is multi-faceted and can only be best described as follows:
Design and Features
Appearance-wise, a mechanical keyboard is easily distinguished from a membrane keyboard for its more elaborately raised keycaps and deeper edges on top. However, this can also be nuanced as cheap membrane keys also share an almost similar look. A closer look into both from the physical perspective, however, shows a more premium appearance to the mechanical keyboard than the membrane keyboard.
But, in essence, what sets the mechanical keyboard apart from a membrane keyboard is how it functions as a typing tool. Generally, the mechanical keys in a mechanical keyboard provide better actuation and feedback with every keypress while at the same time supporting higher sensitivity to registers of multiple keypresses, otherwise known as the N-Key Rollover (NKRO).
Additionally, mechanical keyboards offer customization that renders consumers a sense of individuality, creativity, and freedom that is otherwise lacking in a typical membrane keyboard, such as the ability to program keys or assign macros. Some keyboard manufacturers also have now incorporated ergonomics as part of their product designs, making longer sessions more bearable and not detrimental to the user.
Performance
Mechanical keyboards are technically more durable than membrane keyboards in that, in ideal condition, their keys can endure millions of key presses before finally breaking. Aside from that, mechanical keyboards tend to provide a better response for every keystroke than a membrane keyboard, which makes its use ideal in a competitive setting.
Pros and Cons
As fantastic as the mechanical keyboard may seem like, it is not without its strengths and weaknesses.
The mechanical keyboard's major strengths, as mentioned, certainly lie in its better actuation and feedback, support for N-Key rollover, customization, ergonomics (if offered), and overall durability.
Meanwhile, on the opposite end of the spectrum, the mechanical keyboard also has its weaknesses. Price-wise, mechanical keyboards are more expensive than membrane keyboards—at times, at ridiculous amounts, depending on the novelty and unique features on offer, among other factors.
Another downside of the mechanical keyboard is the noise it generates per every key press—it is more audible than with a membrane keyboard; sometimes, to the annoyance of others, especially those built with clicky mechanical keys.
Membrane Keyboards
When there is something as good as a mechanical keyboard, it, therefore, begs the question as to why the need for membrane keyboards at all in the first place. Well, there is an explanation for that. But before going into that detail, let us first look at the membrane keyboard:
Design and Features
Membrane keyboards may somewhat resemble mechanical keyboards for their slightly protruded keycaps, which is especially true for the gaming membrane keyboard variant. But there is also the chiclet type of membrane keys, which feature a flatter surface and shorter height per key, typically seen in most laptops these days. For added bells and whistles, membrane keyboards can either have backlighting or additional multimedia keys—or both.
Performance
When used for general typing, there is nothing inherently wrong with the membrane keyboard. But there is undoubtedly a difference in feel coming from those who have tried a mechanical keyboard before. In general, typing with a membrane can largely feel mushy relative to the mechanical keyboard.
Pros and Cons
Like a mechanical keyboard, it is not all that bad for a membrane keyboard either, in that it has its strengths and weaknesses.
Although pricing is hardly a distinguishing feature to call something a strength, price-wise, the membrane keyboard is comparatively cheaper than a mechanical keyboard. Part of what makes this the case is the fact that membrane keyboards in general tend to be made with cheaper and lighter materials. Yet, easily, it is the more accessible peripherals for the average PC user, which give it its prominence in the office, academic, or school environment as it is often purchased in bulk.
Another major advantage that comes with the membrane keyboard is how relatively less audible the typing experience is with it when compared to the mechanical keyboard. Again, this, too, is a trait that gave it favor among those doing clerical or study jobs.
Within the low-key profile of the membrane keyboard, however, are weaknesses that make it less preferred in other cases. For one, the membrane keyboard is designed to be less durable than a mechanical keyboard due to its inferior structure, which explains its lower price point. This is also an issue compounded by the fact that membrane keyboards are harder to clean. Additionally, its poorer response rate makes it less than ideal during competitions.
Key Features to Look for in a Gaming Keyboard
We have briefly discussed the features that come in both mechanical and membrane keyboards which are unsurprisingly carried over when the two types of keyboards venture into the gaming class. They are as follows:
Programmable Keys
Programmable keys, otherwise known as macros, are keys that are assigned specific functions at the press of a key instead of having to press multiple keys at once for similar behavior. Gaming keyboard capitalizes on this feature in that it gives competitive players convenience and an advantage when playing response-critical games, like MOBA. Often, this is a feature offered by the keyboard manufacturer itself via proprietary software, but there is also third-party software that gives the same benefits to users.
RGB Lighting
Chiefly an embellishment added to keyboards, RGB lighting has recently seen a proliferation in the gaming keyboard market because of how fancy it makes a keyboard would look. While largely optional, some consumers factor this particular feature into their purchase, especially for ornamentation purposes.
Macro Recording
Although this is a feature that not many players can use in a competitive setting, macro recording is regarded as a handy feature among users who does macros on-the-fly. Through this feature, users can record a series of actions, based on pre-existing behavior involving keypresses on the keyboard.
Anti-Ghosting and N-Key Rollover
Players who have a habit of sliding their fingers over the keys on the board, essentially to execute or mimic a series of key presses, manage to do so thanks to the gaming keyboard's support for both anti-ghosting and N-Key Rollover.
Best Budget Gaming Keyboards
Consumers might be led to think that gaming keyboards, in general, are expensive peripherals for any computer. But while high-end ones tend to be borderline luxurious for the average person, there are still more affordable gaming keyboards in the market. Most apparently, these are the cheaper variants aimed at the budget-conscious or beginners seeking to only experience them, without necessarily breaking the bank.
Redragon K552 KUMARA Mechanical Gaming Keyboard
The Redragon brand slowly made a name for itself when it entered the PC peripherals market. But while the brand can be seen in many kinds of products, it is perhaps its mechanical keyboards that get the most attention among consumers, especially the K552 Kumara mechanical gaming keyboard.
Design and Features
Who needs the num pad when the keyboard you are using is meant chiefly for gaming? The Redragon K552 Kumara understands this very well when it opted to cut out that part of the traditional keyboard in favor of a smaller size, as a TKL mechanical keyboard. Complementing its little stature, the K552 Kumara also features RGB lighting for some flashing lights to fancy as well as anti-ghosting support for error-free typing immersion—but sadly nothing else. It is quite barebones at its core, but not all that bad.
Performance
Forget about the fancy features that often come with a gaming keyboard, as with the Redragon K552 Kumara, it is all about the gaming part of the entire experience. Fortunately, it is also this mechanical keyboard's greatest strength—it works really well, albeit a little too noisy for anybody else's comfort if used in a closed-room setting.
Pros and Cons
The Redragon K552 Kumara may come off as a cheap product with a relatively less-known name and low price point. But setting aside those biases, this mechanical keyboard has something good with it that anyone can afford.
Pros:
The price—it is cheaper by almost half than most gaming mechanical keyboards, and that is actually a good thing!
Accessible to most consumers, especially budget gamers or curious consumers.
It is made of metallic material, so it does not feel cheap at all.
The RGB lighting is a nice addition.
Small enough to not take up so much space on any surface.
Cons
The clicky switches are a little too loud.
The label may seem off-brand.
SteelSeries Apex 3 RGB Gaming Keyboard
The SteelSeries Apex 3 RGB gaming keyboard has been getting the attention of PC gamers for a while for its price point and water-resistant capabilities, among others. But are there other more compelling reasons to consider this gaming keyboard as worthy of inclusion in the best-budget category?
Design and Features
With a full set of keys, the SteelSeries Apex 3 gaming keyboard is not lacking in the traditional sense of a keyboard, although there is an option for a smaller form factor at ten keys fewer. It has the typically raised keycaps seen in other gaming keyboards but it is not mechanical under the hood—the Apex 3 is actually a membrane keyboard, marketed even as the best of its kind. It has RGB lighting, reprogrammable keys, multimedia keys for adjusting the volume on the fly, and an armrest for comfortable use. However, what somehow sets this keyboard apart from the roster is its water-resistance and silent typing capabilities.
Performance
Being a membrane keyboard, the Apex 3 inescapably harbors some of the flaws of its design. In terms of typing experience, the keypresses feel mush and lack tactile feedback, yet silent enough when typing, which makes it convenient for play sessions even with others nearby at home. Additionally, the backlit lighting which appears to be an attempt at beautifying the Apex 3, is not especially outstanding in quality.
Pros and Cons
There are not many that prefer to use a membrane keyboard for gaming despite the relative convenience, such as the SteelSeries Apex 3, and for obvious reasons.
Pros:
Near-silent typing experience.
Not too expensive.
Water-resistant is a boon for players who prefer to have their drinks at the reach of their hand.
The armrest is a welcome inclusion for reducing the chances of acquiring or preventing unwanted repetitive strain injury (RSI).
The reprogrammable keys are also handy.
Cons:
It lacks the general feeling that comes with a mechanical keyboard when pressing keys.
Has a non-detachable cable as a wired peripheral.
Backlit lighting is not particularly impressive.
Corsair K55 RGB Gaming Keyboard
Yet, similar to the SteelSeries Apex 3, the Corsair K55 RGB gaming keyboard is another keyboard that has rubber-dome keys to make the list. And like it, this keyboard shares a feature that would prove to be convenient for gamers who also call themselves foodies, in a sense.
Design and Features
When most keyboard designs either adhere to a smaller or typical-sized form factor, the Corsair K55 RGB gaming keyboard makes for an outlier for wanting to get a little extra larger, thanks to the addition of six programmable macros keys on its layout. Everything else is already a pretty standard affair for any gaming keyboard—a full set of QWERTY keys and a few multimedia ones. It also has backlit lighting but it is not something to write home about. However, if there is something noteworthy among the K55's features, it has got to be its resistance to dust and water.
Performance
Being a membrane keyboard, the Corsair K55 RGB gaming keyboard also inherits the strengths and weaknesses of its core design. The typing experience, for example, is not particularly the best when it comes to keypress feedback. In fact, pressing keys on this keyboard feels strangely heavy, and the discomfort can easily fatigue even the most ardent of typing after a certain period. But without much noise per keypress, this keyboard is certainly easy to use even with others in the same vicinity. The RGB lighting under each key is surely an attempt at ornamentation but it is not necessarily fantastic to the nitpicky who have seen better presentation and dynamics in the same technology.
Pros and Cons
The Corsair K55 RGB gaming keyboard could not project itself as perfectly as its flaws are clear cut from its strengths:
Pros:
The water- and dust resistance features save the keyboard from otherwise harmful elements.
The addition of the armrest presents good ergonomics.
Silent typing experience.
Added macro keys are unique and helpful.
Multi-media keys are also handy.
Cons:
RGB lighting could be better.
Typing can be physically taxing in long sessions.
Has a non-detachable cable.
The Verdict
Back to the question of whether a gaming keyboard makes a better player, the answer is that it entirely depends on the players themselves. While yes, good peripherals, such as a gaming keyboard, would facilitate the best possible tool for the player to tap into their full potential, at the end of the day, skill also plays a substantial factor in it. However, there is also no denying that, for players who are looking for a competitive edge against their opponents, a good-quality gaming keyboard is a true reliable aid.