If you're new to Europa Universalis 4, then you might be overwhelmed by the many options and features it offers. One of the most exciting things you can do in EU4 is colonize new lands and create your own empire.
In this YourGlobalGamer guide, we'll teach you how to colonize as a complete beginner, using Portugal as an example.
Contents…
Choose Portugal as Your Nation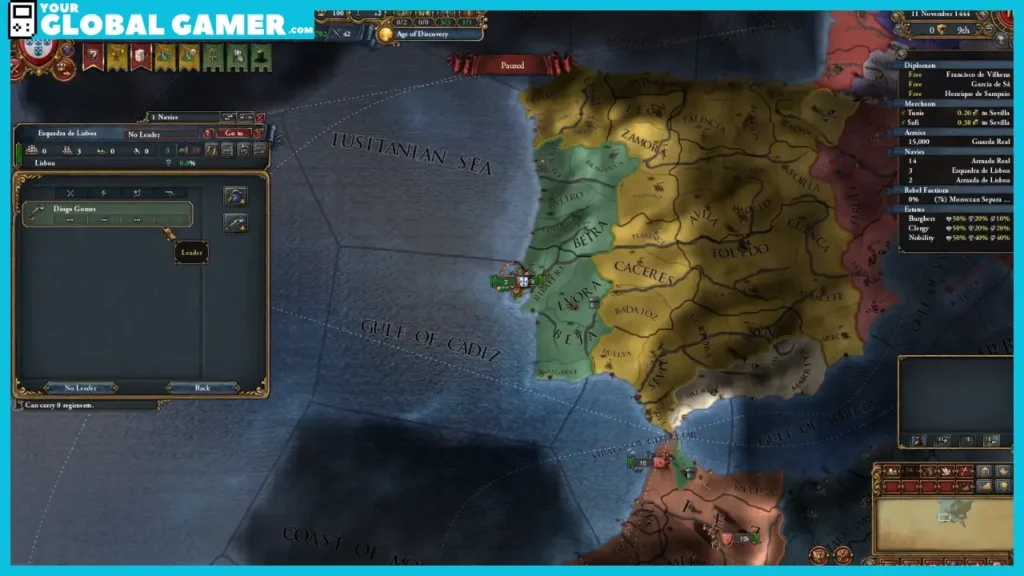 Portugal is the best nation to learn colonization in EU4. To start colonizing, you need to research administrative technology 5, and then choose exploration ideas. The first idea will grant you the ability to hire an explorer and a conquistador, while the second idea will give you one colonizer. Portugal already has an explorer from the start of the game.
Assign Your Explorer Fleet
To assign your explorer, you need a fleet consisting of at least three ships, which can be light or heavy. It's recommended to use light ships because they are faster. When you assign your explorer, you need to click on the "Select Mission" button, then choose "Explore". You can then select the region you want to explore. If you don't have the Eldorado DLC, you need to explore manually by moving your ships in the fog.
Explore the Caribbean Sea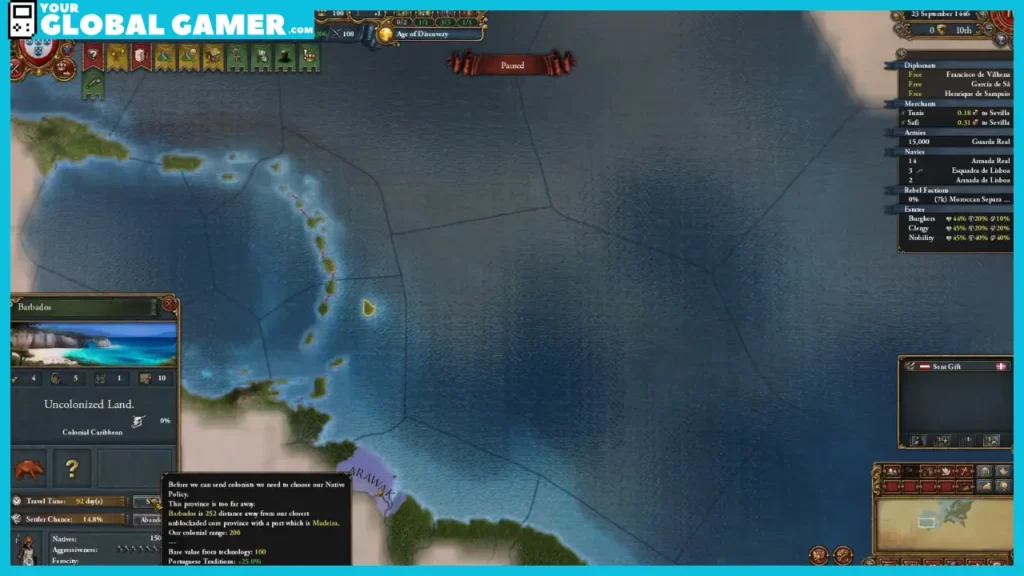 For example, let's explore the Caribbean Sea. Once your exploration fleet has returned, you can see the Caribbean on the map. To actually colonize provinces, you need to research colonial ventures. Don't forget that you need to explore coastal provinces separately, or they will be marked as terra incognita and be inaccessible.
Understand Colonial Range
To colonize a province, you need to have colonial range, which is the maximum distance from the province you want to colonize and your nearest core province. Any nation can colonize provinces only within their colonial range.
How to Increase Colonial Range
Diplomatic technology increases colonial range, or you can choose another nearest province to your target and colonize it first. For example, one of the best provinces to colonize first is Cape Verde, then you can colonize Brazil, and then the Caribbean.
Choose Your Native Policy
To do this, you need to choose your native policy first. The native co-existence policy is the best if you want a peaceful game. The native trading policy is the worst one if you don't have any special idea to complement it, like France or a bonus from exploration ideas and expansion ideas. The native repression policy is great for fast expansion, but you need to station your troops near your colonized provinces or they will be taken by natives.
Create a Colony
To create a colony, you need 1,000 settlers. Each year, a fixed amount of settlers will arrive in your colony. Missions, events, ideas, and native policies can change it. New settlers give you a chance to attract more settlers to your colony each month. The more settlers your colony has, the less this chance is.
Understand Natives
Natives are the native population of the province you're colonizing. This determines how many enemies there will be when they rebel. Aggressiveness is the basic likelihood that they will attack your colony, which is why you have chosen the native coexistence policy. Ferocity is their damage bonus.
Colonial Nations
What happens after you colonize five provinces from one colonial region? This means that other Catholic nations, such as France, England, Castile, or others, will suffer colonization penalties, and also their relations with the Papal State will decrease. Also, after colonization of five provinces, a colonial nation is automatically created. You can choose its name and type if you have the Leviathan DLC.
Choose Your Colonial Type
For most colonies, it's recommended to take the self-governing colony until they get big enough. However, for a Caribbean colony, it's recommended to take private enterprise. Colonial nations become your subjects, pay you tariffs that you can lower or raise in the subject interaction menu, and send you golden fleets if they have gold, and if you have the Eldorado DLC, they also share their trade power with you.
Use Crown Colony for Manpower
If you want a lot of manpower or force limit from your colonial nation, you should use the crown colony. Private enterprise is for colonial nations that rely on trade, such as the Caribbean. Self-governing gives your colonial nation plus one colonist, which makes it expand a lot faster. For the first 10 years, you should subsidize your colonial nation so it will colonize without you. Sometimes, they won't colonize because they don't have enough money, so let's give them two ducats – the price of a colonist.
Recall and Send Colonist
You can recall a colonist and send him to another province. Other provinces won't be abandoned. Colonial nations are helpful in that sense that they will help you in war and give you their profits, but your main goal should be Africa and Asia.
Trade Companies
The main feature of Africa and Asia is that if you have five provinces either in Africa or Asia, you don't get colonial nations that are your provinces. Instead of going on nations, you can create a trade company. Trade companies are very good for trade but bad for other things. Mostly, bonuses for trade outweigh any penalties. You can also build investments in trade companies.
Understand Bonuses
This is a basics guide, so you should read their bonuses yourself, but in short, they are very powerful and very good, and you should build them. Don't ignore them. Be aware that those 1000 ducats buildings can only be built once per trade notes. Just create trade companies, and you'll be very rich; I assure you.
Colonizing Spice Islands and Australia
Australia is the same as colonization of the Americas. They don't have any difference. You can also buy a province from any nation; it's called charter trade company. It costs quite a lot, but it's worth it just for the ability to fabricate claims on your neighbors.
Colonizing Mexico and North America
Colonization of Mexico and North America is pretty different than colonization of South America, and there are many nations here. The best strategy is not to colonize but to conquer them.
Conclusion
Now that you understand the basics of colonization in EU4, you can start building your own empire. Remember to choose your nation wisely, assign your explorer fleet, choose your native policy, create colonies, and understand colonial nations and trade companies. Don't forget to explore and have fun!